Handcrafted Healing, a local St. Petersburg, FL startup, achieves sweet success with domain name, branding, and UI/UX website design by Cyberlicious®.
The Story
Website Domain Dilemma
Handcrafted Healing is a new St Pete boutique massage studio. Their owner, Kelly, knew she needed to have a website domain that maintained brand identity and Handcrafted Healing's vision. However, she was falling short with her quest to claim a catchy and memorable domain since HandcraftedHealing.com was already taken. To add to her frustration, she had already started working on building a website on her own, using a simple to use website builder. However, after several weeks of "learning as she went" she realized that she was in over her head and needed to consult a web design expert.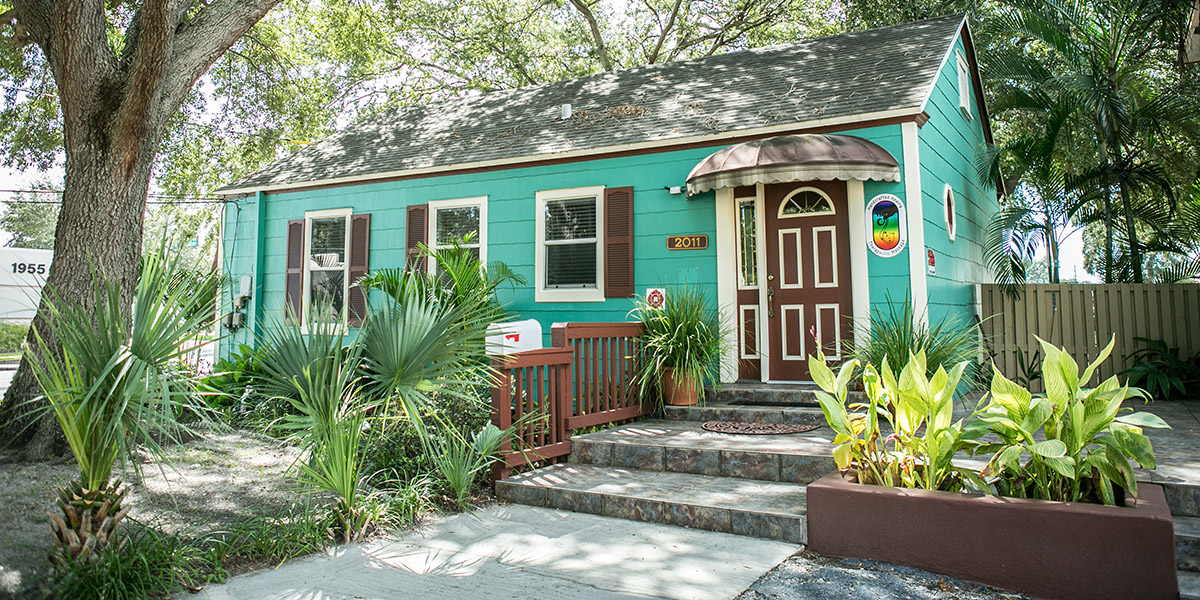 The Goal
Find New Business Prospects
In order for her business to thrive, Kelly knew that Handcrafted Healing needed to be found online. During their most recent community outreach and network events, Kelly and her team directed all inquiries to the studio's main phone line. This led to an increase in call volume for simple questions that could be answered online. Kelly had a sense of urgency to continue to create a buzz about the new massage offerings at her boutique massage studio, and she also wanted to streamline and automate her processes with a fully integrated scheduler on the new website.
Discovery
Measure, Analyze, Strategize, Succeed
In order to fulfill the request with domain name creative, Cyberlicious® set out to find a sweet and memorable URL that also aligned with Handcrafted Healing's brand and vision. We began by gathering data, insights, and search trends for the St Pete area.
During our keyword research and data collection we found the following domain names available for purchase:
www.handcraftedhealingstpetersburg.net
www.healingstpete.com
www.handcraftedhealing.org
Cyberlicious® then began strategizing on website framework and hierarchy that would increase conversions and goal completions.
The Solution
Branding
HealingStPete.com
Selecting a URL that is easy to spell, memorable, and aligns with your brand is key to direct traffic and brand awareness for any business. What are these local therapeutic massage therapists doing? Healing St. Pete, of course!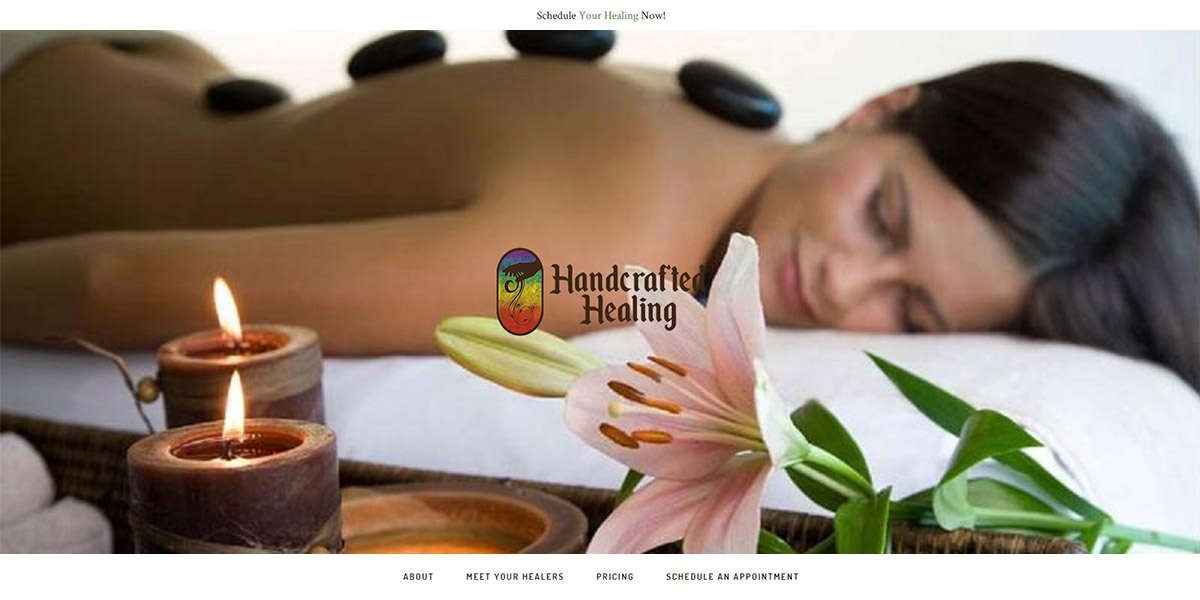 UI/UX Design
Statistics show that at least 60% of all Google searches are conducted on a mobile device. By creating a simple one page website that can be easily navigated on a mobile device we hoped to increase goal completions and conversions with more visitors scheduling appointments online.
Scheduler Integration for Improved Conversions
Cyberlicious® fully integrated a scheduler that allows visitors to book their appointments right on the website. When a client selects a date/time, style/type of massage, with their preferred massage therapist, the CRM feature within the program sends out scheduled and automated email reminders. The application also integrates with Handcrafted Healing's merchant service system. By tapping into Cyberlicious®'s strategic intelligence, the Handcrafted Healing team is able to save hours upon hours of time with streamlined processes for scheduling, reminding, taking payments, and keeping in touch with their client base.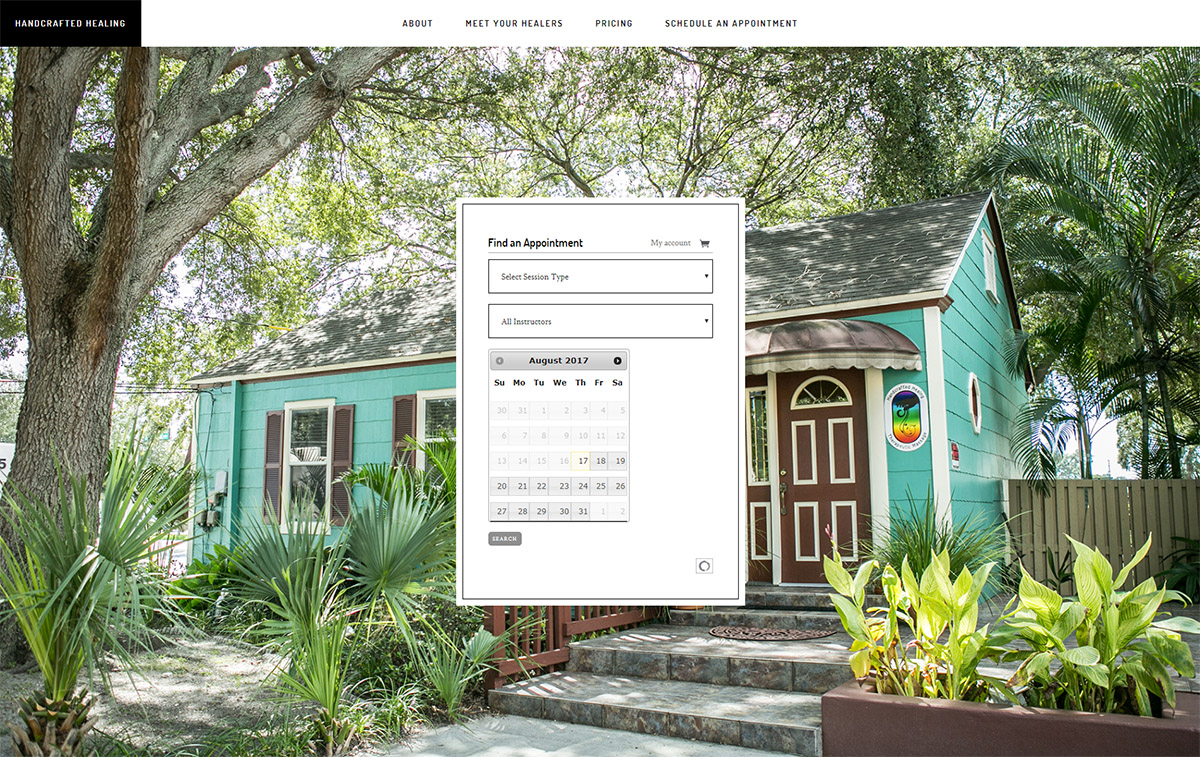 The Results
Exceeding Goals
We designed the website, and Kelly has been to a few of our Brain Candy events to attain knowledge on the latest digital marketing and advertising strategies.
The Cyberlicious® team took all the stress out of building a website. Ben and Sarah were fun and easy to work with from start to finish. They helped me pick out a fantastic domain name that clearly states our purpose and kept my site simple to use. My business has grown tremendously over the past year and they are always easy to reach and quick to answer all the questions that I have had. Cyberlicious® truly cares about your success! They are good honest people and I am so glad I chose to work with them! – Kelly Perkoski, Owner/LMT
Let Cyberlicious® Sweeten Up Your Digital Presence!
Schedule a web design consultation today.