Atkinson Law was referred to us for professional PPC services by a mutual business partner. Their law firm started utilizing Google Ads on January 29th, 2011, and their total spend until June 1st, 2014 was $63,964.09, averaging around $1,600 a month on ad spend: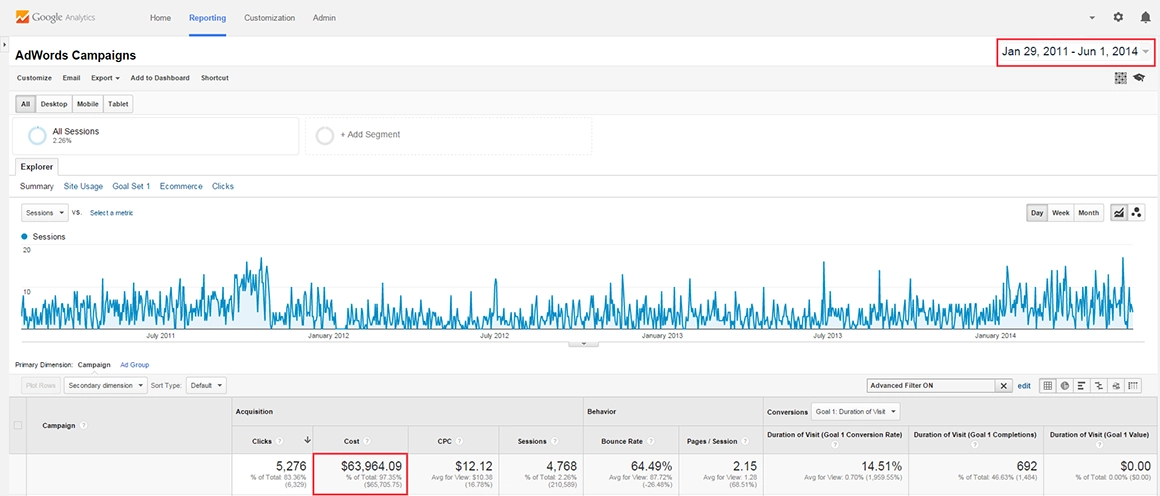 In their fourth year, they came to Cyberlicious® for help. Once we launched the Google Ads account on January 2nd, 2014 it made an immediate impact. Atkinson Law's Google Ads campaigns were optimized and managed by us as we created a significant decrease in ad spend for the year (January 1-December 31, 2014) spending $17,565.13: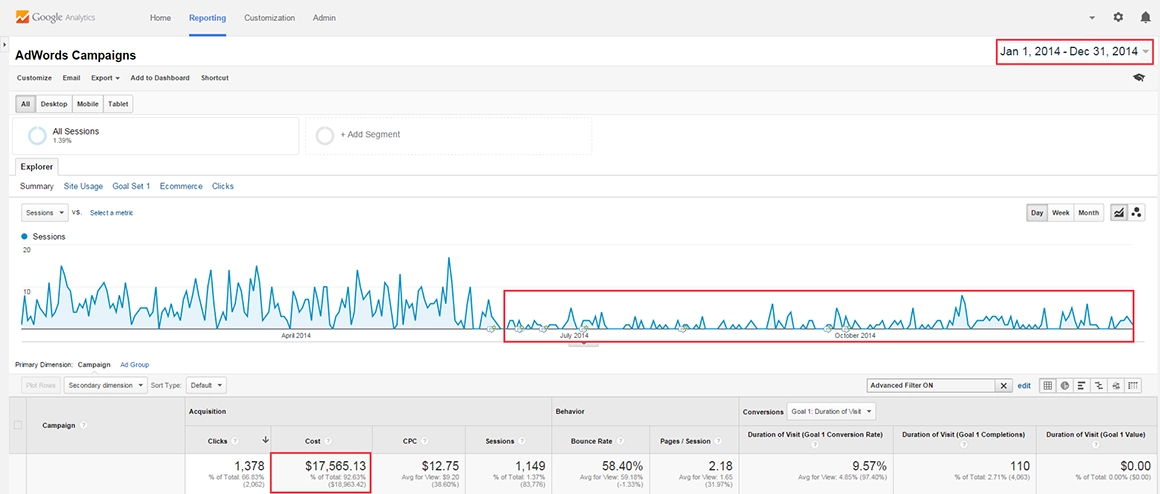 During those first 5 months of 2014 (January 1-June 1, 2014), their Ad spend had already topped $13,388.88: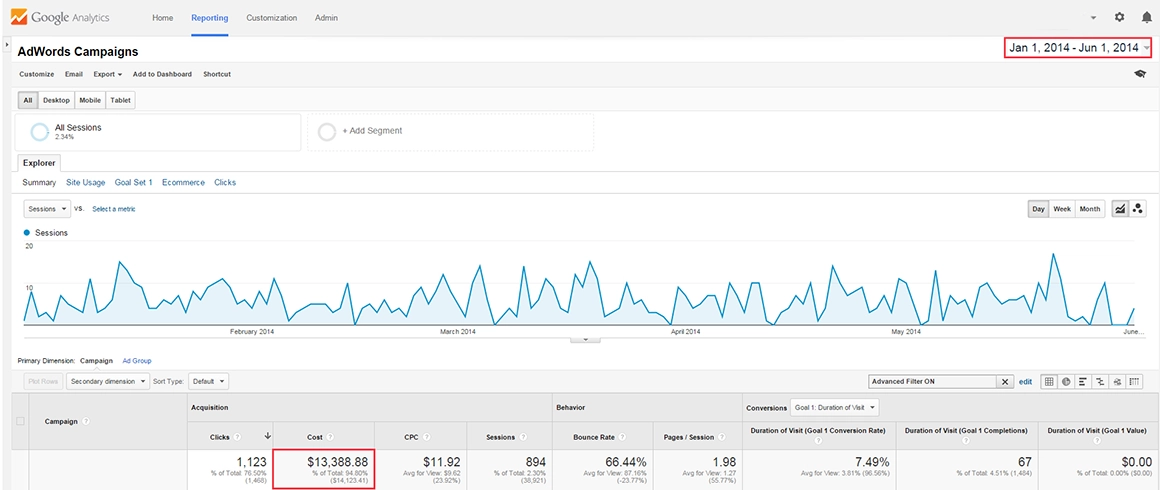 They were basically averaging around $2,700 a month in Google Ad spend and would have finished 2014 with a $32,400 bill from Google. If they had not made some serious changes to their account, their Google Ads spend would have doubled from the previous year. Significantly decreasing their ROI.
Our thorough PPC analysis combined with the abundant amount of data collected is what ultimately saved them from spending such a large amount for a local law firm.
PPC Analysis to Discover a Plan of Action
It is imperative to use all of Google's products and tools when setting up your Google Ads accounts and campaigns. Google makes tracking where your money is going simple, as long as your account is configured effectively. How are business owners supposed to make strategic decisions that succeed if they are not tracking everything about their business?
To our knowledge at the time, Atkinson Law's call tracking system was missing some key integrations into Google's API which made it difficult to analyze reports at a granular level. We needed to know which Ad Campaign, Ad Group, Keyword, or even Matched Search Query brought in leads and converted them into a client/sale.
Atkinson's spend was increasing exponentially, the quality of leads they were receiving was extremely poor, and they were not able to increase their lead count without losing money. Here are some examples that led us to these conclusions:
During our PPC analysis, we found 3 years' worth of data to intelligently decipher what is required to bring our partner to what we like to call Google Ads euphoria.
PPC Optimization for Improved Results
PPC Optimization involves analysis of the data collected from the PPC Campaigns and then driving results based on strategy from this data collection.
Paid Google for clicks from low-quality matched search queries.
Keyword match types are one of the most important components of a Google Ads account. They literally control the volume of visitors, as well as the quality of visitors a website receives. We immediately wanted to look into what searches were triggering their ads, as it would tell us the quality of their keyword list and keyword match types. We found search queries Atkinson Law definitely did not want to pay-per-click:
$04.42 = "yellow pages boise idaho"
$11.49 = "why does a woman falsely accuse a man of sexual assault"
$13.45 = "[competitor] law firm in boise"
$24.58 = "what does dwp mean in legal terms"
$48.02 = "what kind of lawyer handles embezzlement"
Here is a quick snapshot of more search queries that were triggering their ads: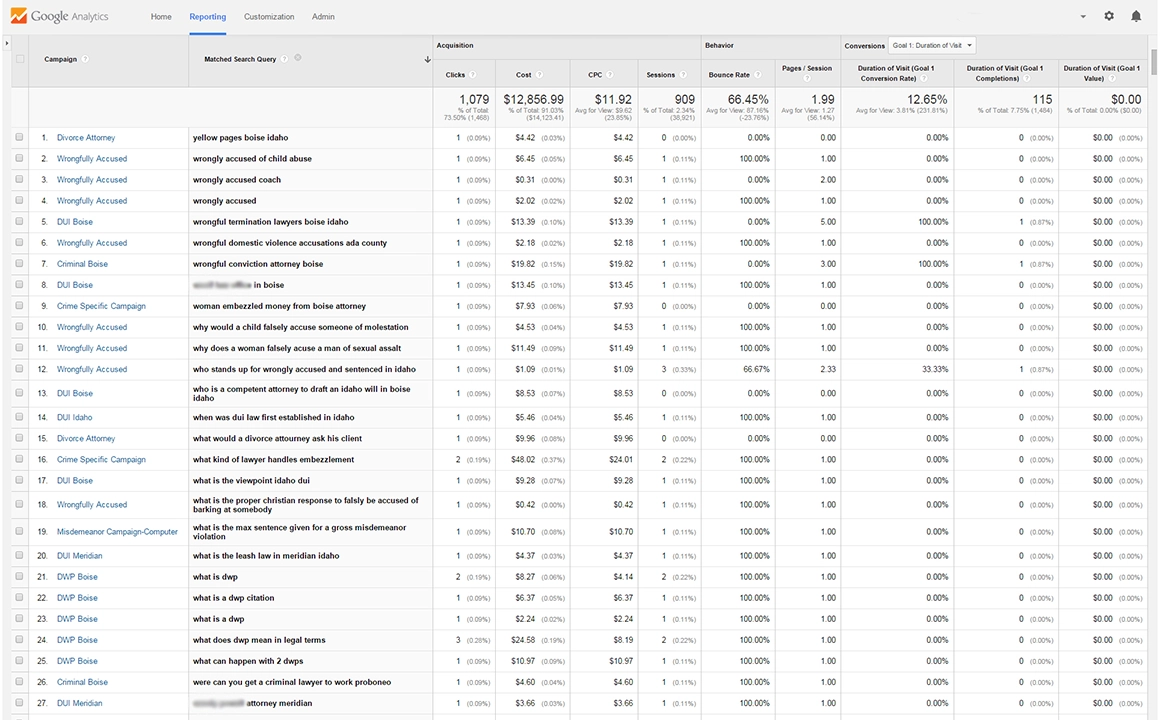 Having a robust amount of data helped us pinpoint exactly what their problems were, and we fixed them utilizing the appropriate keyword match types. Understanding how keyword match types work separately and together within each ad group is critical when setting up campaigns.
Paid Google for clicks outside of his targeted locations.
Once we nipped the keywords in the bud, we discovered the ads were being shown outside the law firm's service areas. We were targeting most of the cities in Idaho, however, people were coming to the site looking for lawyers in Oregon. The reason for this is because Boise ID, United States – Nielsen DMA region was selected as a targeted area. The Nielsen DMA (Designated Market Area) regions are areas in the United States in which local television viewing is measured by the Nielsen Company. The Boise ID, United States – Nielsen DMA region also includes Oregon as it is this region's TV viewing area: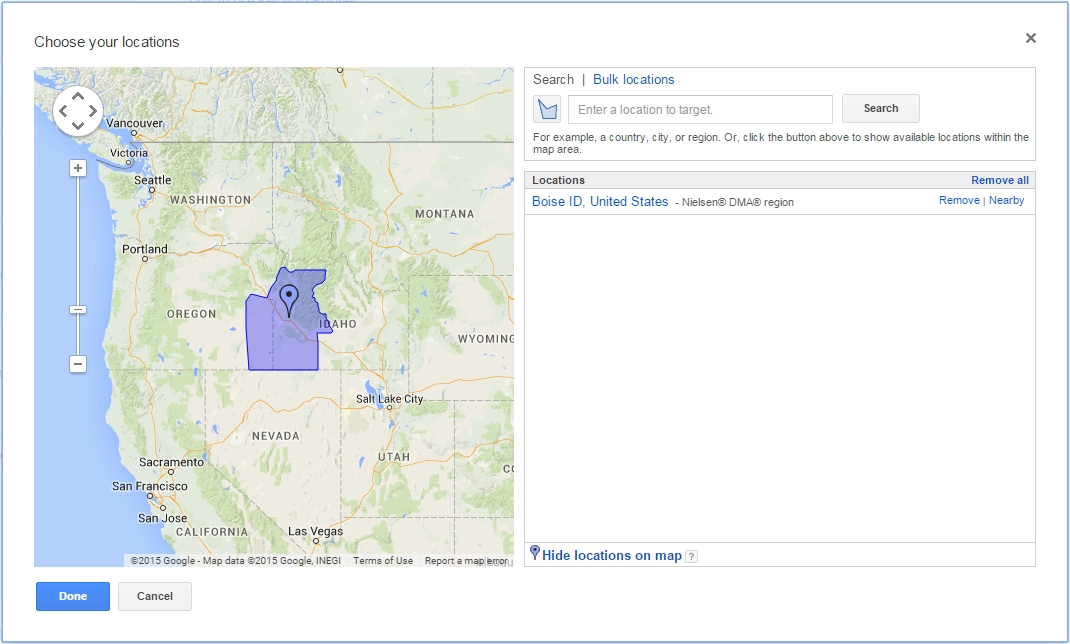 Atkinson Law only needed to target their specific locations then under advanced location options, choose "Reach people in, searching for, or who show interest in my targeted location." We experimented with city names at first, then found that city zip codes were most effective. Remember to run experiments on the multiple location settings until the best results are found.
Paid Google for clicks to help its users with attorney salary research.
The objective of these ad campaigns is to find potential clients searching for attorney representation, correct? Then why would Atkinson Law want to pay for a click for someone searching for an attorney's salary? Discoveries like this add up: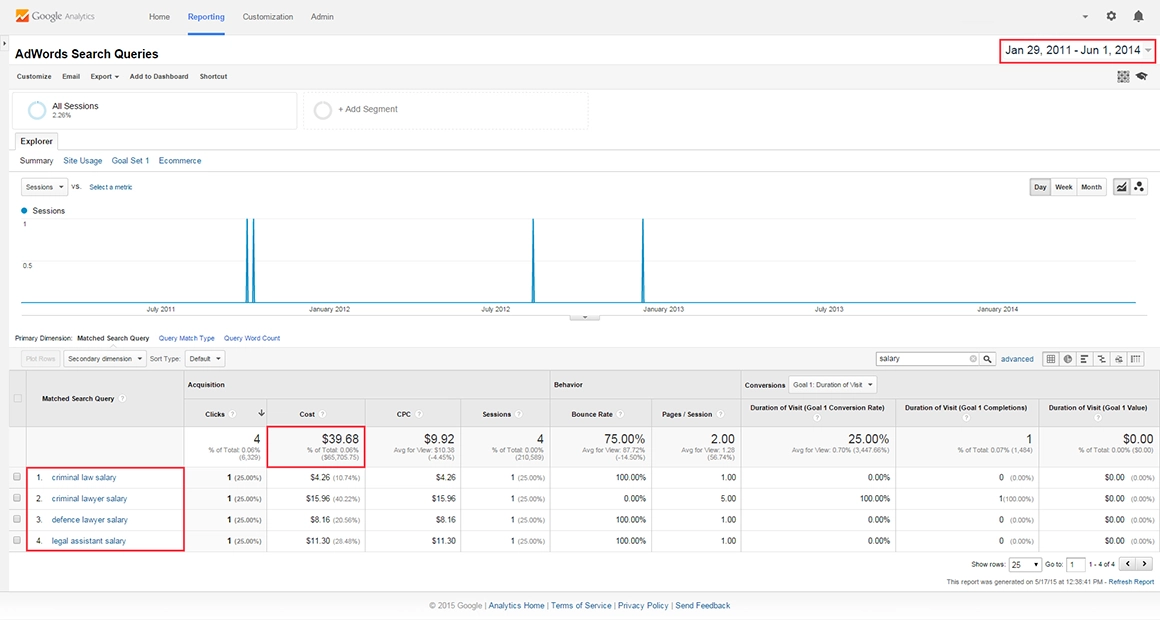 We easily fixed this by adding -salary to this specific Ad Group's keyword list. Prior to launching any Google Ads campaign, we highly suggest determining the Ad Group's negative keyword list.
Paid Google for clicks after business hours.
If Atkinson Law is going to pay Google for quality leads, then there should be someone available to answer the phone, yes? They were receiving clicks outside of their business hours and on the weekends leading to phone calls when the office was closed:
Hours of Day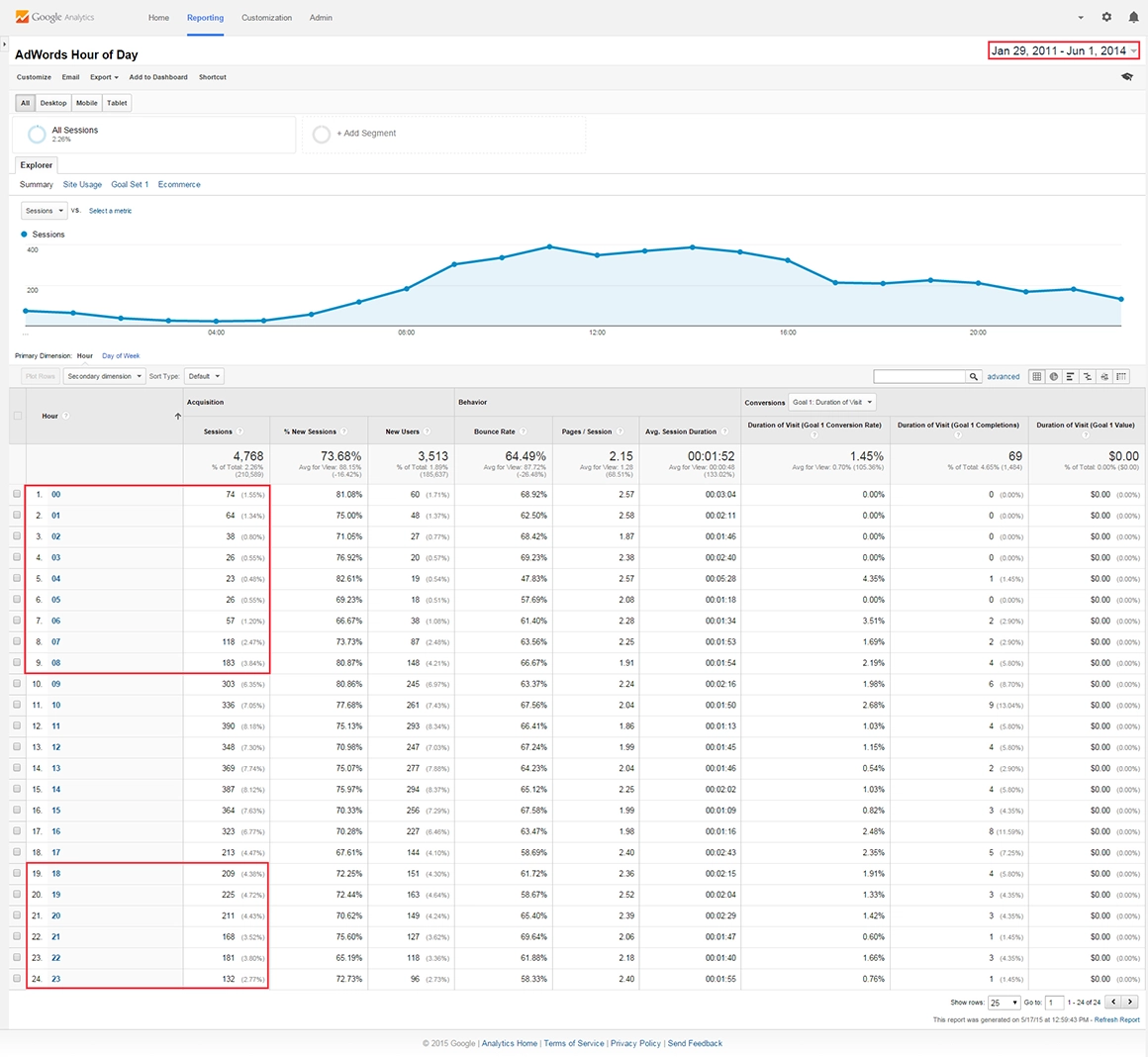 Days of Week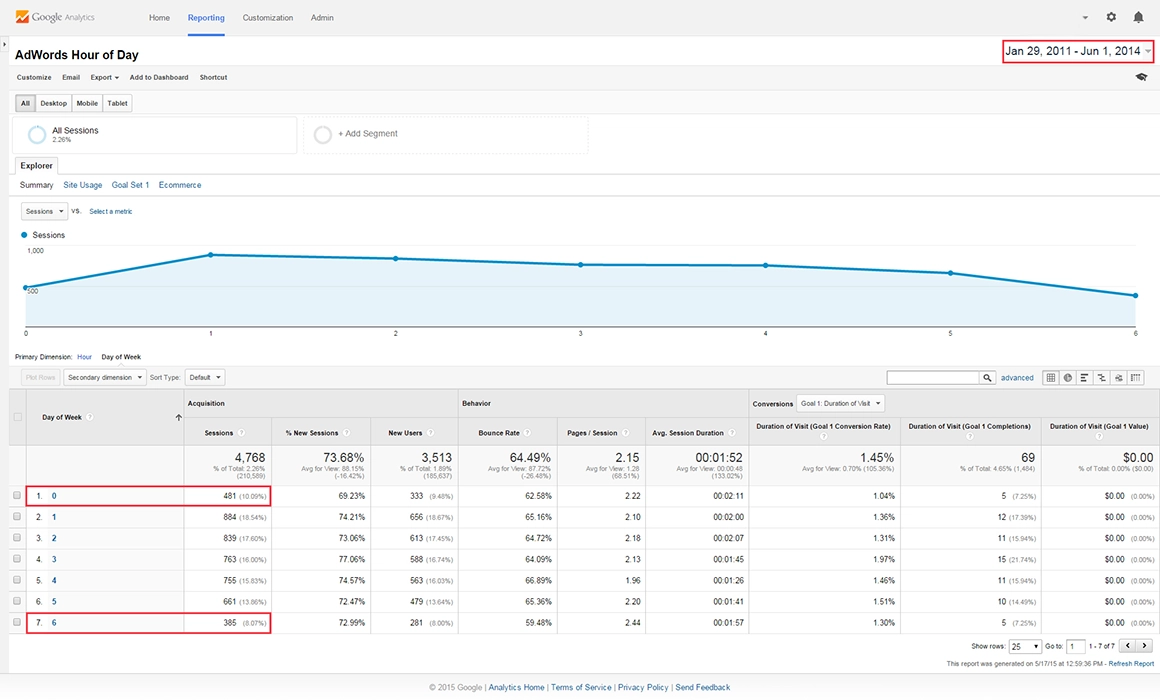 We implemented Ad Scheduling for their campaigns. Cyberlicious® experts even went as far as specifically creating 8-6 Weekday and 8-6 Weekend campaigns separately to test conversions with our call tracking system.
PPC Strategy Leading to Solutions
In order for PPC strategies to be this successful, it is our responsibility to understand each partner's needs. Then utilize our expertise and experience to create, as well as manage effective campaigns. Atkinson Law's PPC campaign had almost 3 years' worth of data to analyze and interpret. This provided Cyberlicious® PPC analysts the data we needed to create intelligent business decisions regarding their Google Ad campaigns. Therefore, we implemented keyword match type experiments, location-specific geotargeting, negative keyword match types, and ad scheduling.
We also implemented other PPC strategies such as A/B testing and a fully integrated call-tracking system. Our team A/B tested ads, call to actions, button colors, fonts, and anything else we could get our hands on for improved conversion rates. The call tracking system proved to be the most beneficial, as the firm is now tracking calls with full Google Ads integration. Google Analytics is now reporting which Campaign, Ad Group, and even which Matched Search Query generated the call. Another key feature available with full integration of the newly installed call tracking system is the ability to enter earnings from attorney's fees from each individual client/caller: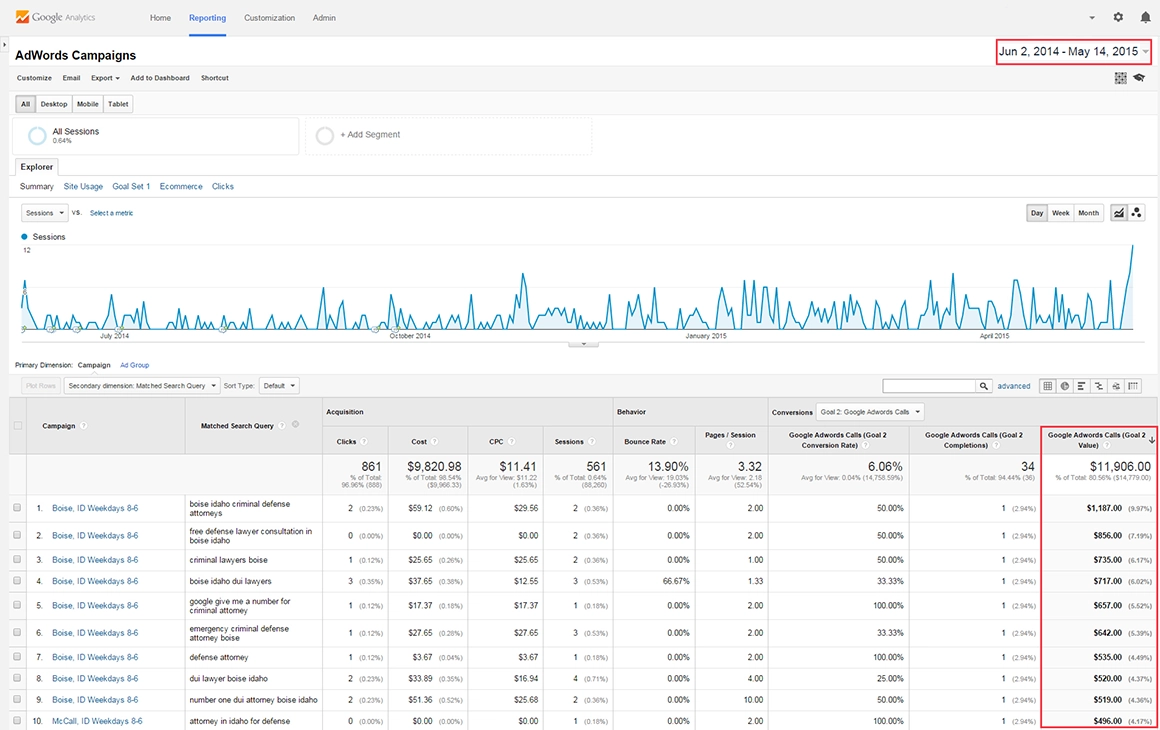 PPC Management Drives the Conversions to 100%
Obviously, the firm could decide to "Set It and Forget It" saving his law firm thousands or he could allow Cyberlicious® to push for that 100% conversion rate. We obviously understand reaching a 100% conversion rate is next to impossible; however, we can always further our experiments and PPC Strategies to include:
Conclusion
Cyberlicious®'s strategies, analysis, optimization, and management of Atkinson Law's PPC campaigns have almost completed a full year. Their total spend to date, as of May 31, 2015, is only $9,969.89: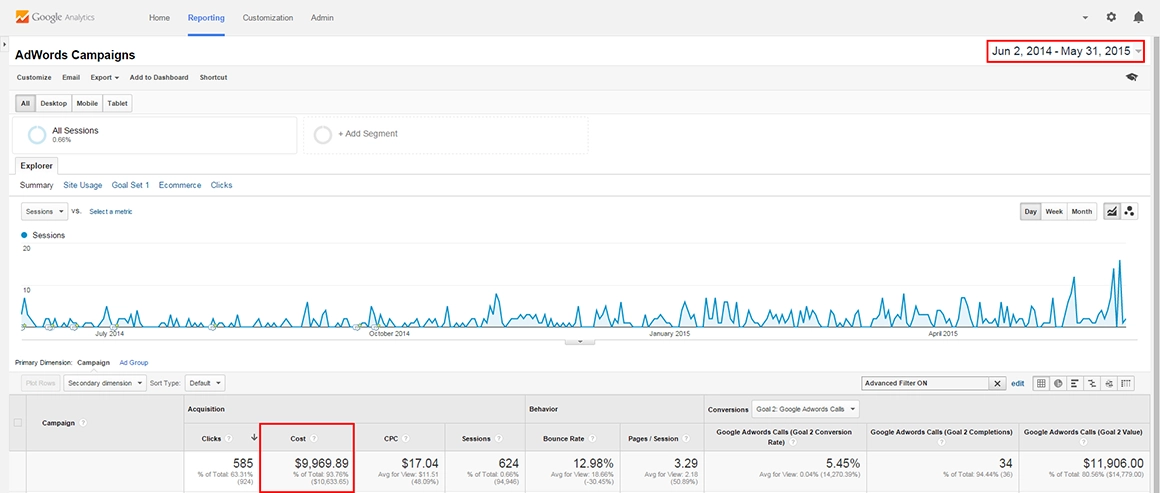 Year-over-year, we saved our partner, Atkinson Law nearly 58% in ad spend: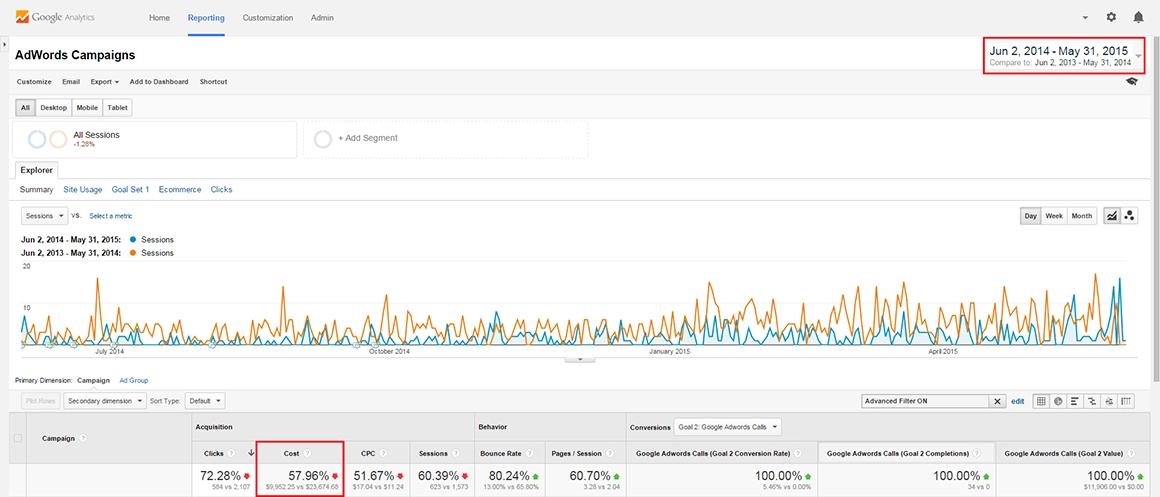 Now that's Cyberlicious®!
Contact us today and any new accounts will receive a $500 credit from Google. If you already have an account, contact us for an analysis and recommendations.