Is your law firm, medical practice, or business considering billboard advertising? You may be researching 'how much does it cost to advertise on a billboard?' Well, we can tell you that the average price is anywhere from $1,000 to $22,000, and that's only for the billboard location itself. The better question is, 'how effective is billboard advertising for my business?'. Unfortunately, this can be a very hard metric to track. When was the last time you saw a billboard and called the phone number or visited the website listed on it? Never. Alas, it's nearly impossible to get clear attribution and measure ROI using these marketing tactics alone.
Build Your "Digital Billboard"


No, we don't mean the digital billboards lining the highway. The Cyberlicious® "digital billboard" is what we like to call the search engine results page (SERP). In fact, there are 4 prime locations where your business could, and should, be showing up on the SERP. Each of them offers its own special benefits:
1. Local Service Ads
Local Service Ads are located at the top of Google Search Results and show up when potential customers, clients, or patients are searching for services or products you offer in the location(s) you set. Who doesn't want to see their business, firm, or practice at the top of the searches? This really makes for greater visibility. Leads can come in through phone calls and even messages sent through your Local Services ad! This allows you to pay for leads only related to your business, plus the customers are choosing you!
2. Pay-Per-Click Ads
Pay-Per-Click Ads are exactly what you think, advertisement campaigns that you set up and pay for through Google Ads. We particularly love the ability to track the data. When done correctly, these ads allow you to target the right people, in the right place, and at the right time. They have numerous types of ads that allow you to focus on different goals, including clicks and impressions. You can also use them to increase brand awareness and more!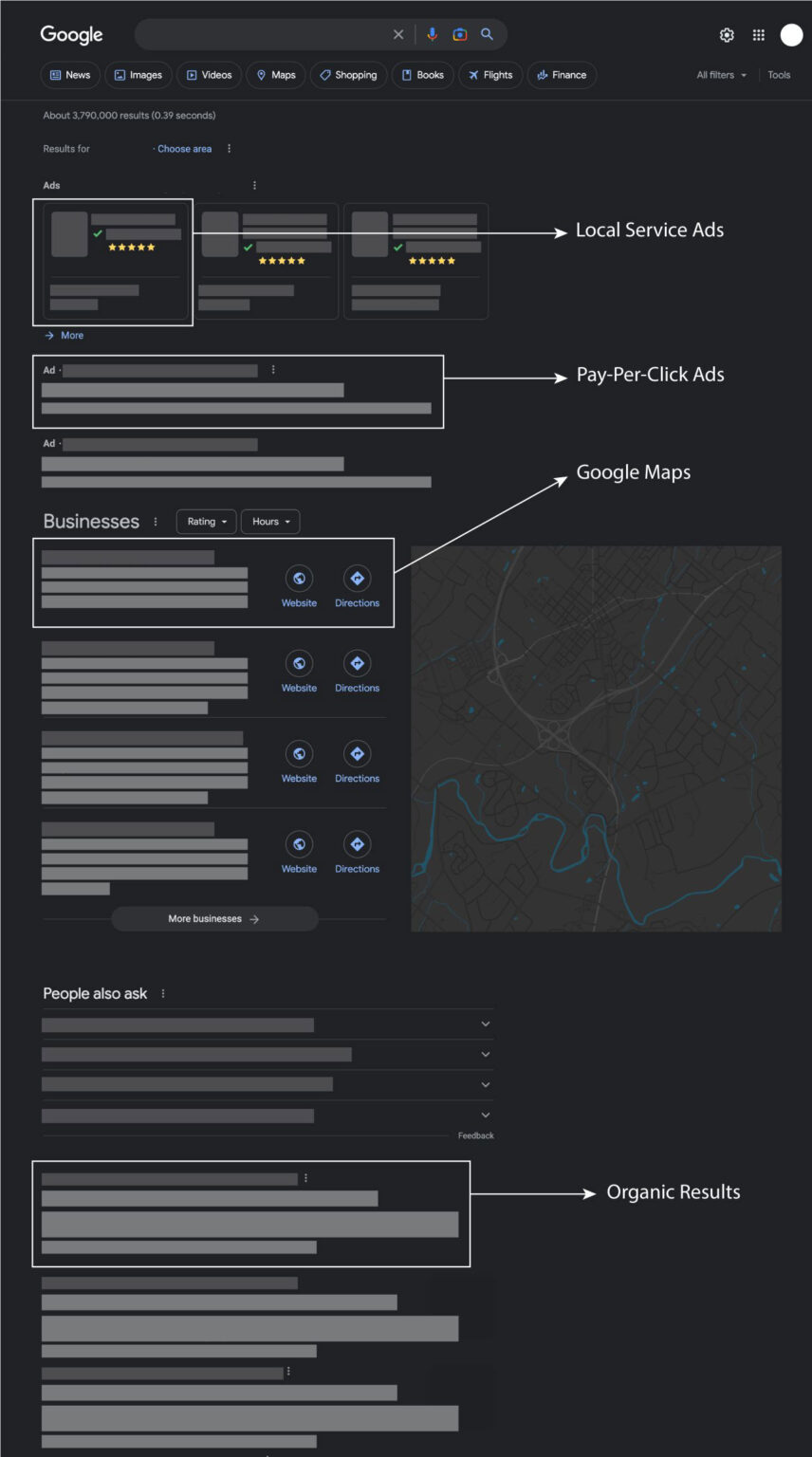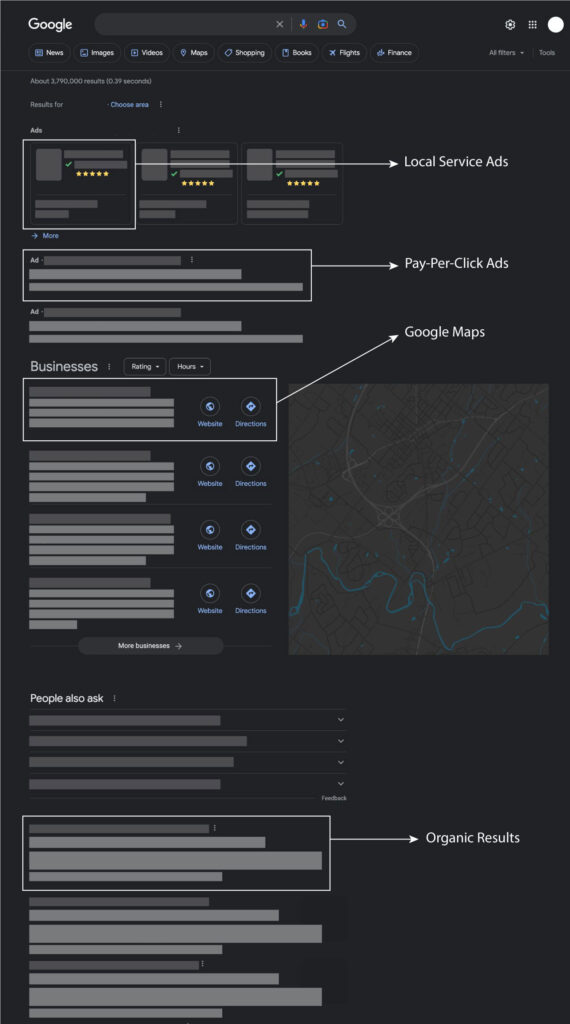 3. Google Maps
Google Maps, otherwise known as Google Business Profile, show up as a local listing. It is a free service that can even be used by businesses that don't have a website. This allows customers to find products or services local to them quickly. It is highly customizable with the ability to add photos, events or posts, get reviews from customers, and more. These profiles also use a ranking system, so understanding how to increase your visibility is important.
4. Organic Results
Organic Search Results are free listings that appear to customers, clients, or patients because your product or service is relevant to what they search for and want. To appear here you have to understand Google's algorithm and properly build out your website's content, SEO, accessibility, and more. The algorithm is tricky and sometimes finicky, so having an expert can make a big difference.
Aren't convinced yet? Well, one thing that all these locations give you is more real estate on the page where people ARE actually looking for your business, services, or products. More importantly, not while they drive down the street and their full attention is elsewhere (or so we hope). And the sprinkles on top – you'll be able to track how users, clients, or customers are finding you! This means you can allocate your marketing budget towards channels that actually bring you more closed business, sales, leads, or conversions.
Let Cyberlicious® Get You To The SERP
We wholly believe that locking down your digital presence means appearing on the search engine results page. Better yet, you can be found in all four places on the first page. That is top-tier advertising and strategy implementation. If your law firm, medical practice, or business has already nailed its digital presence and wants to run billboards for additional brand awareness, go for it. Otherwise, Cyberlicious® would love to help you better use your marketing budget. So, schedule a consultation by filling out the form on the right, or bottom if you are on mobile, and let's get rolling!
Join the conversation on LinkedIn and keep a look out for more helpful information!