Video marketing has been on the rise since 2020 and 2021. Why? Think about the increase in both platforms that offer these services, and how COVID created limited opportunities for in-person social interactions. It is no surprise that Google has rolled out the option for promotions on YouTube Shorts. I mean, their biggest rival, TikTok, has been testing them since 2020 with a full launch this year. Not to mention, Instagram has featured ads since mid-2021. Outside of joining the competition, Google states that it is "key step on our road to developing a long-term YouTube Shorts monetization solution for our creators". This has been in the works for a while, but comes full circle with other features seen during Google Marketing Live 2022.
YouTube Shorts Advertising: All You Need To Know
What exactly are YouTube Shorts?
Shorts are vertical short-form videos, 60 seconds or less, that are shot and shared with the world. YouTube's tools make it easy to create Shorts. You can capture, adjust the speed of your footage, add music from top labels like Sony, Universal and Warner, as well as incorporate text animations. Moreover, you can even combine multiple 15-second video clips into a single Short. More importantly, people can engage with your content through comments, likes, shares, and even subscribe to your channel.
YouTube Shorts average over 30 billion views a day, which is a lot of eyes. This means that your business should really consider a strategy that can get your products or services on there. Good news! You now have the option to connect with potential customers on YouTube Shorts with video action and app campaigns. These ads will display a brief description, the advertiser's name, as well as your call-to-action button. It has also been teased that Google will make YouTube Shorts promotions shoppable ads in the near future. This will include the ability to scroll through products, buy directly from the ad, and more. So keep an eye out for that!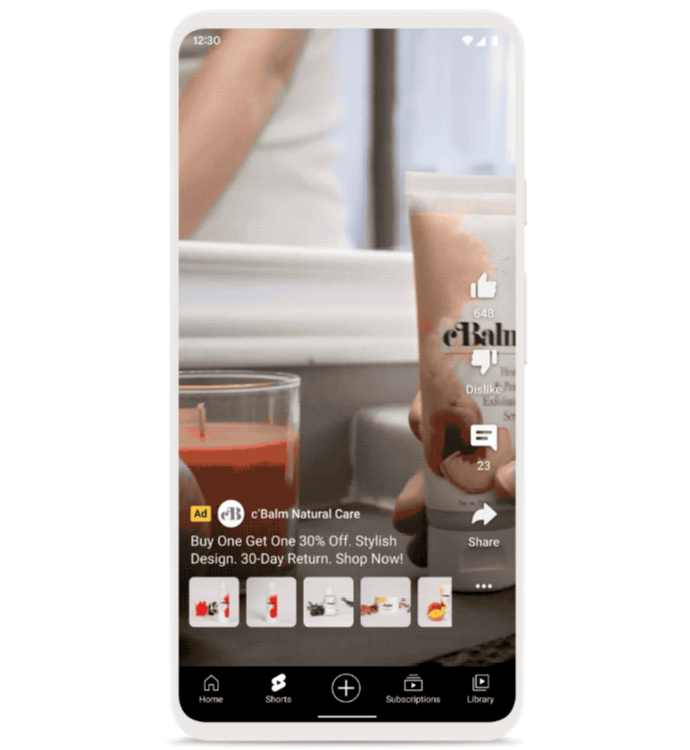 Imaged Sourced from Google
Ready To Advertise with Shorts?
Google is getting into the game, and you should too! The ability to show ads in YouTube Shorts can mean only good things for business. On a platform that reaches billions of people and audiences of all ages, take advantage of this advertising strategy to get your brand in front of people where they are looking. Not sure where to start, or which platform is right for your business? You are in luck! Our team here at Cyberlicious® does the research, and knows which advertisements work. So, fill out our form and request a discovery call so we can go over your exact goals and needs. Now That's Cyberlicious!