The advertising game is a tough nut to crack. There are so many different types of campaigns, locations, the creation of assets and keywords, and more to consider when building out an advertising strategy. However, there is a new option for local businesses that can get you listed right at the top of the search. Local Service Ads through Google. How exactly do these ads work and how are they different from other Google Ad campaigns? Just follow along with us to find out!
Basics of Local Service Ads
Pay attention! If you are a business in an eligible category, these ads could be a game changer. It is time to break down the what, who, where, why, and how of Local Service Ads.
What
So, what exactly are Local Service Ads? In short, Google Local Services Ads are pay-per-lead ads that are perfect for connecting users with the most relevant, appropriate, and trusted professionals in their local area. They show right at the top of Google and businesses must go through a vetting process. These ads can display the company's name, reviews and ratings, location, phone number, opening hours, and more.
On desktop, users will see three ads across the top, and on mobile or tablet users will see two ads underneath a Google Guaranteed Badge. These ads will have greater reach than other ads as they will also be tied into Google's voice search queries. Google Assistant will only show one ad though, so you'll want to keep your rank high. The one place they don't show up? Google Maps.
As a pay-per-lead ad, your costs go straight to conversions that actively reach out to you. Depending on the market, competitors, location, and other factors, the cost per lead can range anywhere from $6-$30. However, these prices could change as more and more people sign-up for the service. If this is something you are curious about, Google offers a cost tool!
There are three badges that a business can obtain that help to build trust with potential customers. To earn these badges businesses must complete thorough background and license checks.
Google Screened – Businesses go through a license check and occasionally a background check. Applicable to Law, Financial Planning, Real Estate, and providers that work in the Child Care or Preschool industries.
The Google Guarantee – The green check. Businesses go through a screening and verification process that can include a background check, as well as, business registration, insurance, and license checks. Those in the healthcare industry must also verify their National Provider Identifier.
License Verified – Applicable to those in healthcare practices, and providers who offer healthcare services including dentistry. They must complete license checks, background checks, and show proof of insurance.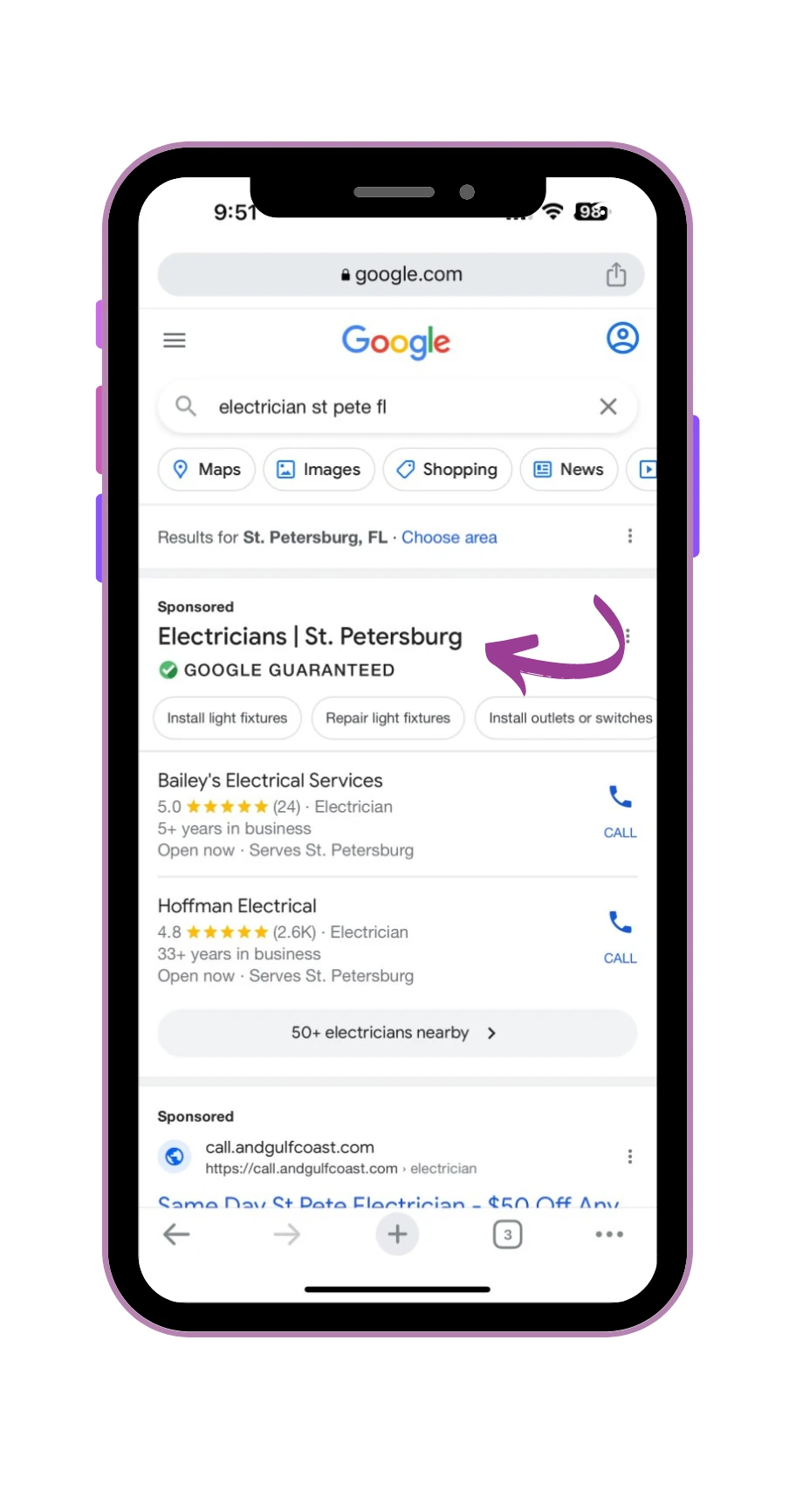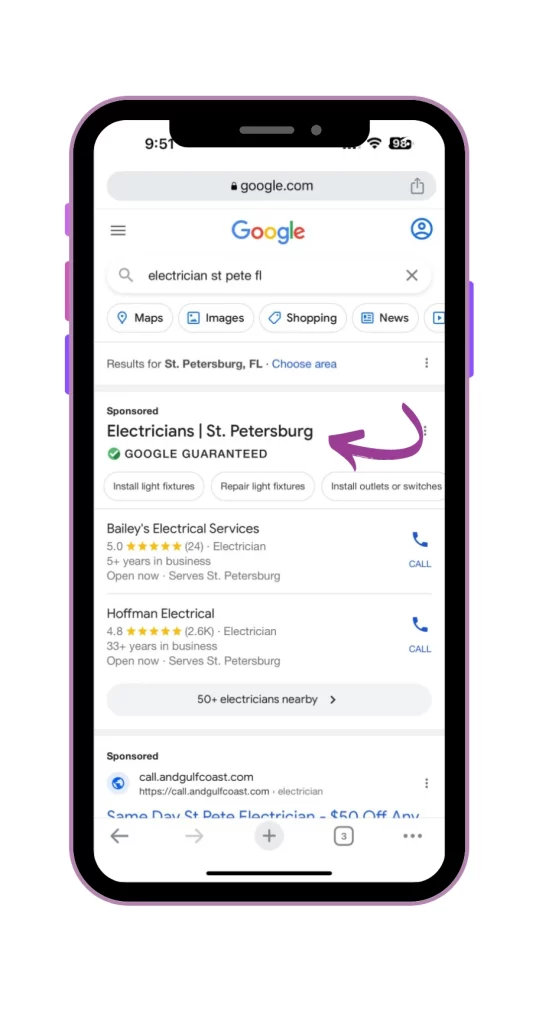 Who
In all honestly, the number of service categories that are eligible to use Google's Local Service Ads is too extensive to list here, but we can give you an idea of who is eligible and direct you to where you can get more info.
Google breaks the services into 5 industries:
Home
Business
Education
Care
Wellness
Overall though, it is for businesses that are service-related contractors such as plumbers, electricians, lawyers, childcare providers, tutors, pet grooming, etc…. You get the idea. In fact, feel free to check your business eligibility here if you are so inclined.
Where
Google has not released Local Service Ads to every country yet, but they are likely to roll them out to other places in time. For now though, businesses can set up Local Service Ads in:
Austria
Belgium
Canada
France
Germany
Ireland
Italy
Netherlands
Spain
Switzerland
United Kingdom
United States of America
Note: It is important to keep in mind that eligibility can change with location. For example, some services may be eligible in the US, but not in the UK. Additionally, even if you are eligible, your business still requires approval from Google.
Why
Local Service Ads are great at getting your business in front of potential customers at the right moment. Basically, when they are actively searching for someone to fix an issue or address a need. One of the biggest benefits is that you appear at the top of Google. This means that these ads are the first thing customers will see.
Furthermore, the Local Service Ads are set up so that consumers can reach out to your business directly from the ad. They can do this through a phone call, messaging (US only), and can even directly book an appointment (US only).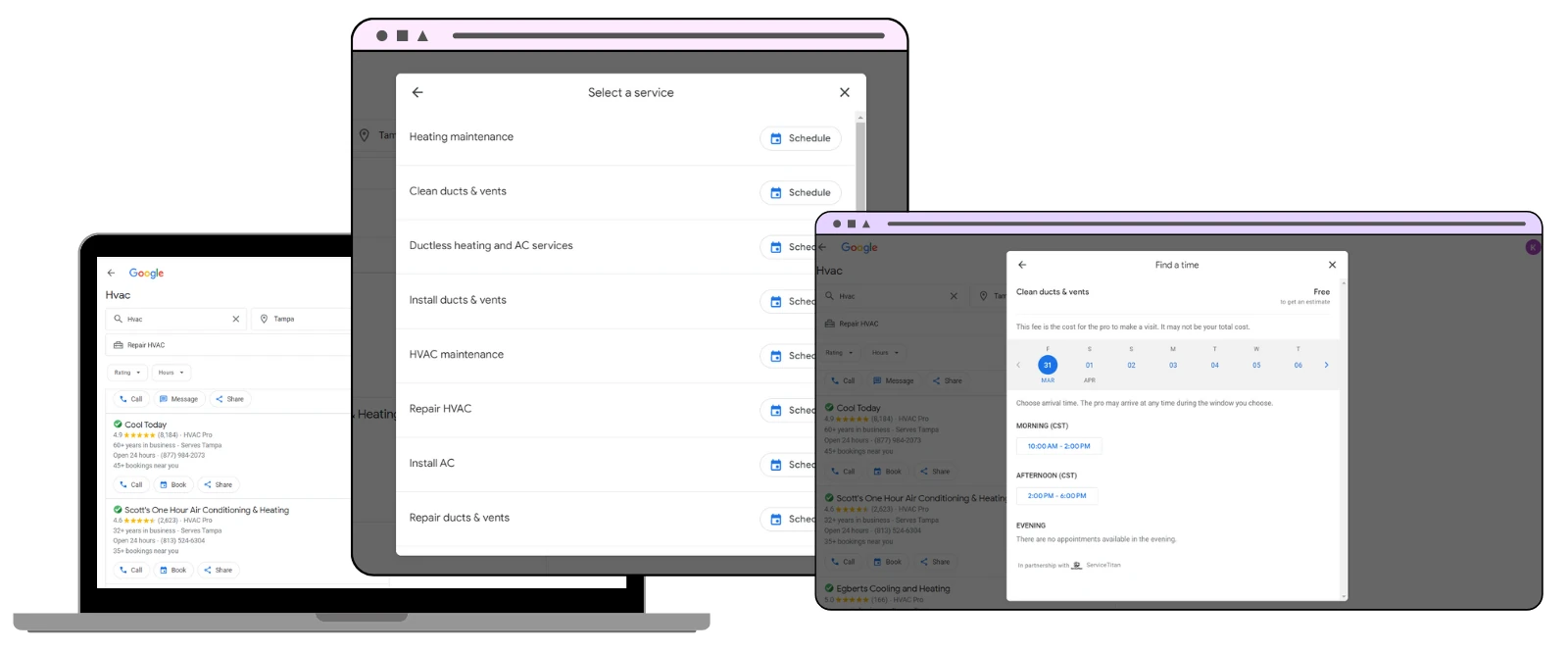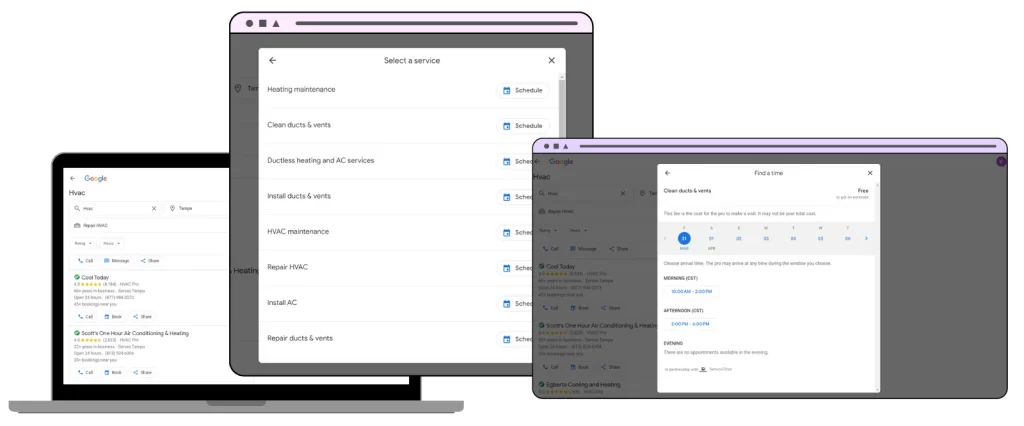 Lastly, we want to highlight the fact that Google's algorithm will rank Local Service Ads based on review rating, response rate, and proximity to a searcher's location. As consumers ourselves, we love the fact that these ads allow us to find services that are close in location and local to us. We all know how annoying it can be to somehow find advertisements for businesses across state lines.
Note: The booking feature isn't available for healthcare, pet care, wellness, people care, or education. It is exclusive to home, legal, and real estate service businesses that have booking enabled with one of Google's booking partners.
Learn Directly From The Experts at Our Next Workshop
Dropping knowledge bombs one day at a time.
How
There are steps to follow if you are interested in utilizing these ads for your business. Due to Google eligibility requirements, every business that lists on Local Service Ads must go through a screening process. As annoying as this may seem, it is in place to help you and prevent users from seeing a bunch of spam. Is it completely successful? To be determined.
Create a profile & check eligibility (just click "Get Started")
Prove your business is trustworthy (background check, add licenses, insurance, etc…)
Customer Reviews (Google will automatically pull or you can send out links to previous customers)
Set your budget
Add payment and billing information
Wait for approval
Note: Google's ranking system takes each factor into consideration and the more thorough your set-up, the better your chances of showing up in front of users. So, don't just rush through the process.
Local Service Ads Vs. PPC Google Ads
Now that you have a good picture of what Google's Local Service Ads are, it's time to do a quick comparison to Pay-Per-Click (PPC) Google Ads. We break it down into three major categories, location, cost, and work on your end.
Location
Let's start off with the location of these ads. As we have noted, Local Service Ads show at the top of Google search. This places them above other Google Ads and even Google My Business & Google Maps listings.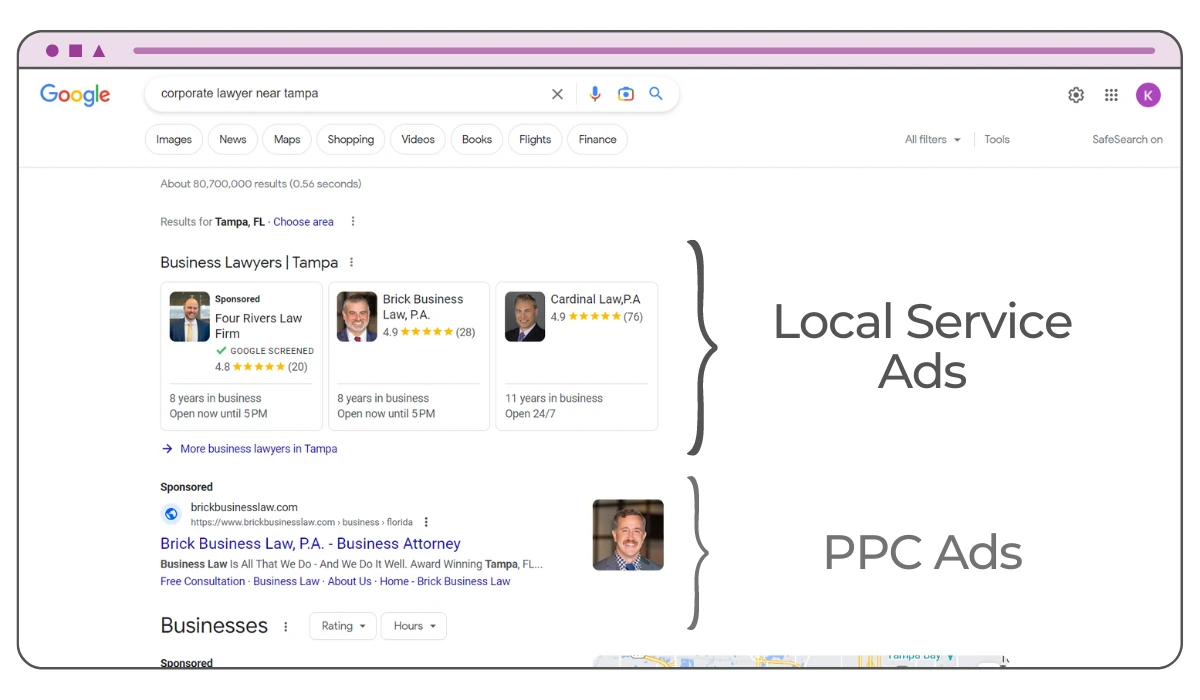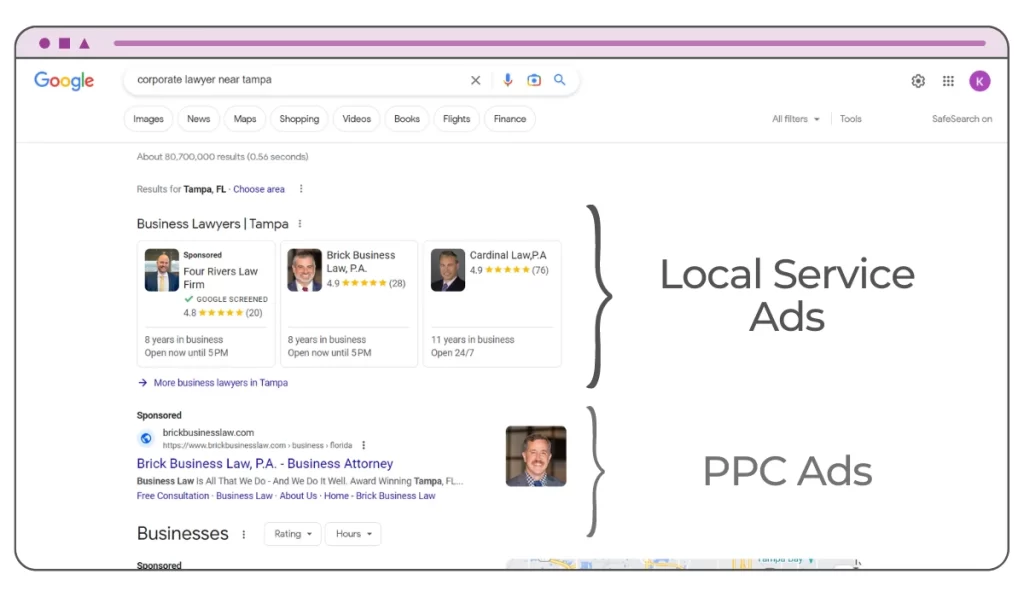 Cost
Next, take into consideration the cost of each ad, and your budget. With PPC Ads you are charged whenever a user clicks on your ad. Whether it was intentional or an accident, and whether they converted or not. Local Service Ads only charge if a customer calls, books, or messages you directly through the ad. So, even if a user sees your ad, decides to do research and check out your website or social media more, and then contacts you outside of that ad, you are not charged.
Amount of Work
Local Service Ads and PPC ads have completely different types of work and time that must be placed into managing them. After initially setting up your profile, the ads themselves require little, if any constant monitoring on your end. Google automatically pulls your data and shows it to customers looking for your services! Unlike with PPC ads where you need to do keyword research, come up with creative headlines, descriptions, assets, and more. PPC ads require you to A/B test and constantly monitor their effectiveness.
One of the most important ways you need to interact with your Local Service Ads is by being responsive to inquiries. Partly due to the fact that it is one of the ways that Google ranks your ad, but also because even though you have a lead, that doesn't mean it is closed.
Pro Tip: Local Service Ads do not replace PPC ads. We wholly believe that they should be a supplement to PPC ads and that they offer another avenue to get your business in front of customers during their journey.
Get that Green Check
PPC Ads, organic search results, and even your Google Business Profile are still important to keep brand awareness and lead flow up. We know it can be difficult to convert potential customers with just text ads though, and thankfully Local Service Ads now offer another way to supercharge your advertising strategy. Guess what? It's time to set up your Local Service Ad! Figure out a budget that works for you, get the green check, and keep those reviews coming in.
If it all seems a little too much for you that's okay. Keeping up with all of these ad campaigns, SEO, and more can be draining and time-consuming. That's what the Cyberlicious® experts excel at though. So, reach out to us to discuss your needs and we'll do everything in our power to bring you the delicious results you crave.
Join the Conversation on LinkedIn