The highly anticipated Meta's Creator Week 2022 showcased tons of advice and opportunities for creators all over the world. One of their biggest focuses? New monetization tools that will roll out on Facebook and Instagram. For content creators, monetization is a great way to take their work to the next level. Additionally, it benefits these platforms in that it keeps users on their apps or websites.
The popularity and success of platforms that prioritize creators has led other tech companies scrambling to offer features that help creators monetize. Moreover, platforms are realizing the importance of creators using their services and bringing in users. What better way to entice creators than offering them a way to make money? YouTube has begun to find new ways to support their creators, so it was only a matter of time before Meta did the same. With this being said, let's look at all of the exciting monetization features Facebook and Instagram are expected to launch.
Monetization Tools Coming to Instagram
Money money money money, money! Creating content can be a full-time job, and thankfully there are ways creators can support themselves doing what they love. In fact, Meta seems to be dedicated to attracting and keeping creators on their platforms. So, in a push to offer long-term monetization solutions, IG is releasing a few new ways to support their creators.
NFTs: Create and Sell Digital Art
In an effort to to offer new monetization tools for creators, Instagram has revealed plans to dive into NFTs. They will offer an innovative toolkit that provides creators with an "end-to-end system", to both create and sell their own NFTs. This will allow creators to easily monetize their work by offering them directly within the platform, and even off, to fans and collectors alike.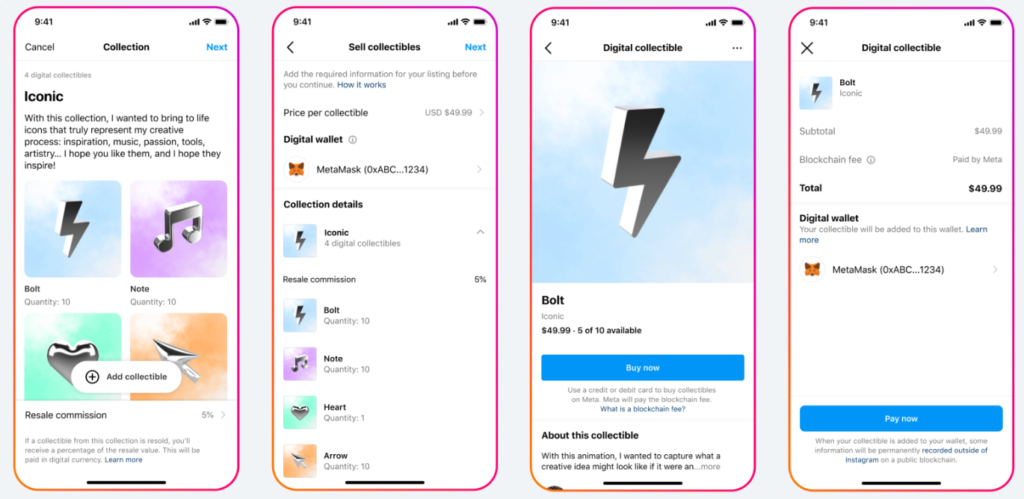 It appears that this popular platform is capitalizing on the trend of investing in artwork as collector's items which has sparked a surge in interest from niche online communities. On top of this, we wonder if this will eventually translate to virtual trading in the metaverse. While NFT creation and selling is only currently available to a small group of creators in the US, they are planning on rolling it out to over 100 countries. Eventually.
Fan Subscriptions
Instagram announces a new way for eligible creators to monetize their platforms – fan subscriptions. Although currently only available in the US, this service gives eligible creators the chance to charge a fee (between $0.99 and $99.99), and provide paying members access to exclusive live streams, posts and badges. By generating content that is tailored specifically for fan subscribers, influencers and creators are able to foster their online community. More importantly, this will reward subscribers with distinctly personal experiences. This newest feature is part of its plan to provide creators with more ways to generate revenue through user engagement on the app. Better yet, it can even give creators a steady monthly income.
Gifts from Fans
Instagram is also testing Gifts, starting with offering this feature on Reels. Essentially, this feature gives fans the opportunity to tip their favorite content creators through the form of themed virtual gifts. These gifts can run users anywhere from 10 stars up to several hundred through the platform's virtual currency, which can be purchased through the app. Although, not to be confused with Facebook's Stars, as they are separate currencies. Creators can exchange these stars for real-life money and get paid out after a certain level is reached.
Update: Gifts has been officially released to more creators in the US! You can check if you are eligible on your Professional Dashboard.
Facebook Monetization Tools
Even Facebook is getting a little love in the form of monetization updates! While Reels seemed to be a major focus for Meta during Creator Week 2022, they still teased updates for creators on FB. I mean, Facebook already has subscription features and other tools for creators to make money. So, what has changed?
Stars are Expanding
Facebook Stars are not entirely new, but they have introduced updates that expand the use of them. Stars give fans and users a way to tip their favorite influencers and creators. It began as a way to monetize live streams, but this will soon change a little. First, Facebook is making it easier for users to find stars by automatically enabling this feature on videos and Reels. Additionally, it has been teased that Stars will be available on photos and text posts. This allows a greater range of content types to be eligible for Stars-supported financial incentives.
Adieu Meta Creator Week
As we bid farewell to Meta Creator Week 2022, we are excited to welcome these new monetization tools for all you creators out there. We are happy to see that Meta is taking steps to ensure creators remain engaged with their platforms and continue creating content. To get an even better idea of everything Meta announced at Creator Week, check out what new creator tools they also mentioned.
Are you excited for these new monetization features? Better yet, are you planning on implementing any into your social media strategy? Check us out on Facebook or LinkedIn and let us know which new features you are most excited about!