If you haven't heard about the advancement of AI capabilities in search, then you must be living under a rock. All major tech companies have been rolling out new AI experiences and interfaces including Microsoft and Google.
Last year alone, Microsoft partnered with OpenAI (developer of ChatGPT) and introduced its AI-powered search through Edge. Also, let's not forget Google's conversational AI, Bard, which offers a unique way to get answers to questions and more. The next step, Google launches its AI-powered search generative experience (SGE). What's so great about it? Let's find out!
What is Google's AI-Powered Search Generative Experience (SGE)?
In May 2023, Google opened up experiments in Search Labs, a testing platform where users can beta test new products. This is where SGE began and can actually still be tested.
Google's Search Generative Experience brings an impressive and new layer to the search experience. Now, when you search, AI-powered summaries can give you a basic understanding of the subject while providing direction for further exploration, including the ability to ask follow up questions. In fact, you can quickly read up on new topics, uncover quick tips for specific questions, discover products, and more.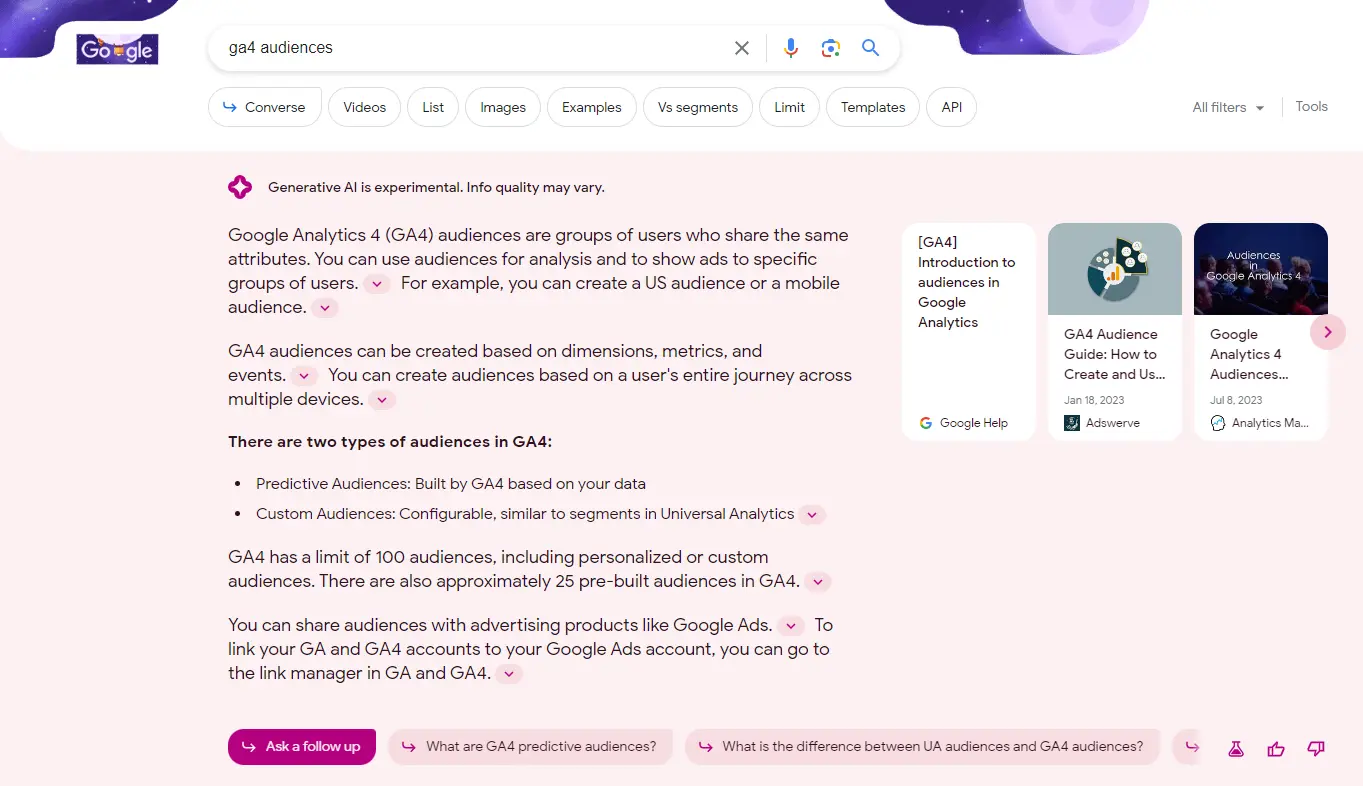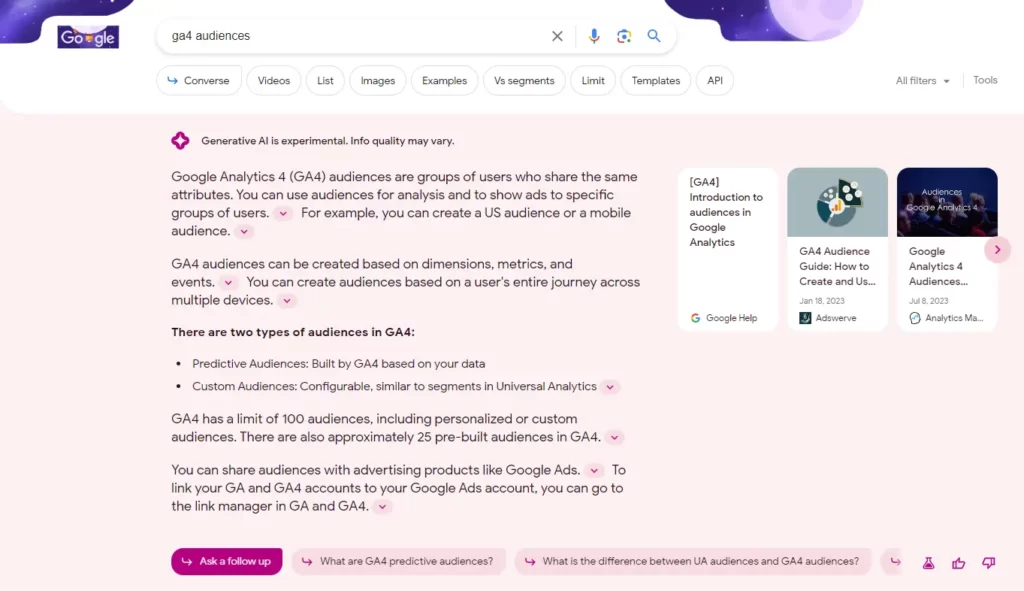 SGE: Making Search Simpler
Overall, the intent of the new SGE is to give searchers a better experience when searching and browsing. Per Google, "The web is home to a huge range of information and perspectives. Within this sea of content, we want to make it faster and easier to find what you're looking for."
In order to do this, SGE is able to offer information in numerous formats and ways, making search simple. Some of its capabilities include:
Searchers can get a better understanding through images and videos.
Quickly allows searchers to jump-off and learn more information when curious. Articles, links, and follow-up prompts are included.
Dig deeper. Definitions will be viewable within AI-generated responses. You will be able to hover over certain words to preview their definitions and see related diagrams or images.
SGE currently creates AI-generated overviews to help with tasks across a number of programming languages and tools. Google aims to improve this capability even more with color-coding and syntax highlighting.
SGE while browsing: Assists users interacting with long-form content from publishers and creators by allowing them to view an AI-generated list of the primary points that a piece covers. Additionally, links are provided which can take users directly to what they're seeking on the page.
Remember, this new search generative experience is still in Search Labs. Therefore, we should expect that Google will continue to make improvements such as increasing its speed, as well as adding new features.
Get the AI Search Generative Experience
Do you want to try out Google's new search generative experience? Here's what you need to know to get started:
Important: Currently, Search Labs is available to a limited number of people in the US, India, and Japan. It's only available in English, Hindi, and Japanese.
The easiest way to turn on SGE is by going to Search Labs on your computer. Here you will be able to toggle on any of the features you want to use. If you want to use your iPhone or Android device, then a few more steps are needed:
You will need to download/have the latest version of the Google app.
Find the Labs icon on the top left. Hint: it looks like a beaker. This should take you to the SGE card.
Toggle on the Search Generative Experience.
For more detailed instructions, we recommend following Google's guide.
Note: To get AI-powered overviews in search results, on any device, Incognito Mode must be turned off.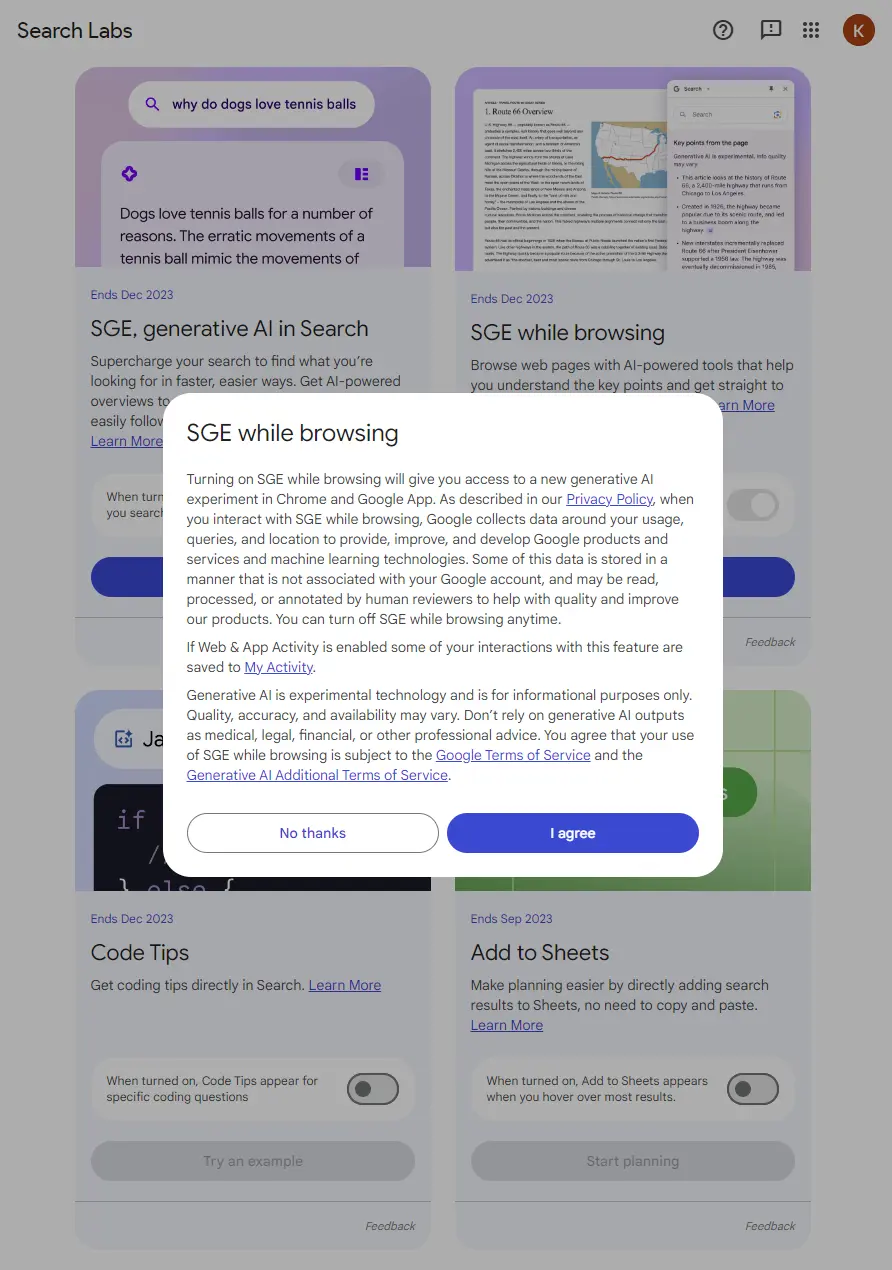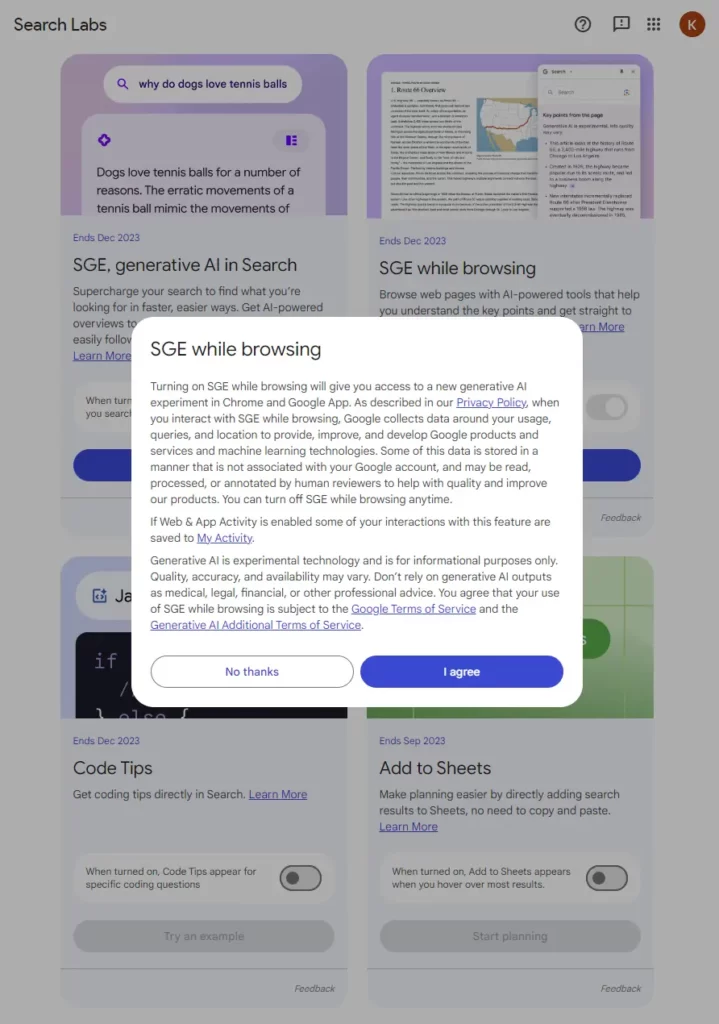 Leverage AI for Your Business
Let's connect and see how your business can benefit from advances in AI. Schedule a consultation and let's chat!